Here we are, Rough Side Out worldwide release day. This EP is a collection of songs I wrote and/or recorded with some of my favourite writers and dearest friends working primarily in the Canadian country music world these days. Donovan Woods and Todd Clark are two of the most well-rounded musicians and songwriters in the biz and I am blessed to have been granted so much of their time and talents in the past year or so. I so happily gathered with them and a few others and in between laughs and tacos, these songs were born. There's a country feel that is new for me and yet these songs are undeniably tied to my traditional Celtic home on an Island in the sea. You can take the Boy out of the Bay, but… well, you knows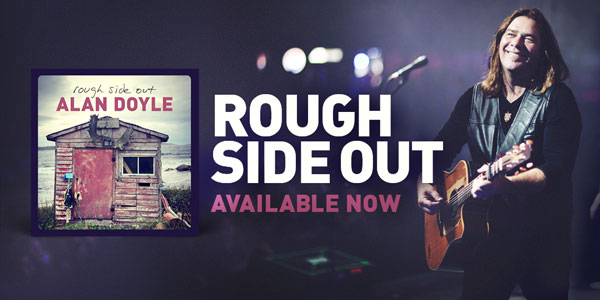 The songs are about topics dear to me, from the love of the concert in We're Gonna Love Tonight, to the tip of the hat to the pub singer in Anywhere You Wanna Go, and onto the never-ending conflict of wanting this night to never end while longing for the next one to come in I Gotta Go. I've always wanted to do a big, brokenhearted duet and was so glad that one of the country's great voices Jess Moskaluke agreed to sing with me on What the Whisky Won't Do. I was equally grateful when our old pal Dean Brody answered the call to join me on We Don't Wanna Go Home, so we could finally explain to the world how tough it can be for a touring musician to find an open bar after the gig. It's OK is really a whisper to people suffering with mental health issues to let them know a better day is coming, and Paper in Fire is, simply put, one of the most influential songs of my life and I've always wanted to record it.
Of course, all these songs are really designed to make a grand night out and I hope to see you out there as we tour these tunes and a whole bunch of favourites from my own records and the Great Big Sea catalogue on the Rough Side Out Tour. All the Beautiful Beautiful Band are on the go as well as the wonderful Kelly Prescott as special guest in Canada and Chris Trapper for the US shows. All should combine to make for the greatest Kitchen Party ever.
Thanks so very much for all of this. As Ever.
Cheers,
Alan
Kelly Prescott
Kelly Prescott hails from two musically renowned family lines, spanning three generations from Northern Ontario, Nova Scotia and the Ottawa Valley. She has naturally inherited the foundation to follow her musical heart, drawing inspiration from her great Canadian roots. Imbued with experiences gleaned from growing up in an award winning studio, she has hit the ground running in pursuit of her own musical expression.
With her smoky and sultry vocals, singer-songwriter Kelly Prescott recently wrapped her first tour across the U.S. with Kyle Cook of Matchbox Twenty. When not on the road, the country artist splits her time between Nashville and her home-base of Toronto. She's most recently been working in the studio with producer Jason Mater on new music expected later this year to follow-up her second solo album, 2016's acclaimed Hillbilly Jewels.

Celebrating a long lineage of a very musically inclined family, the third-generation singer grew up in an award-winning studio where she was able to hone her craft of song writing. Penning such fan favourites as 'Heels Over Head' and 'Coming Home To You (ft. Buddy Miller)', her new music expands on her talent and unique vocals to reveal tracks like 'Who Gets The Church' and 'Leavin' Her', which was released worldwide June 8th.

Celebrating a long lineage of a very musically inclined family, the third-generation singer grew up in an award winning studio where she was able to hone her craft of songwriting. Penning such fan favorites as 'Hillbilly Jewels' and 'Battle Road',her new music expands on her talent and unique vocals to reveal tracks like 'Who Gets The Church' and 'Leavin' Her', releasing world wide June 8th

For a full list of tour dates and more information on Kelly Prescott, please visit www.kellyprescottmusic.com